Upscale, romantic, chic dining is no stranger to the Vail valley. Innovation, novelty, and invention, on the other hand, are a little bit more difficult to come by, as attempts at these in this area have historically amounted to examples of kitsch that serve instead to forward innocent designers from straying down the path. Take Avon's boat building, for example. The poor boat building, which was originally designed to look like a ski, earned its name after construction by its rounded glass façade, round bulbous windows, and looming "nose" over one of the town's busiest roundabouts. The original intent of the building might have fallen by the wayside except that it now houses Vin 48- a restaurant concept as novel as the boat building itself, but even more innovative and inventive with space use and wine tasting.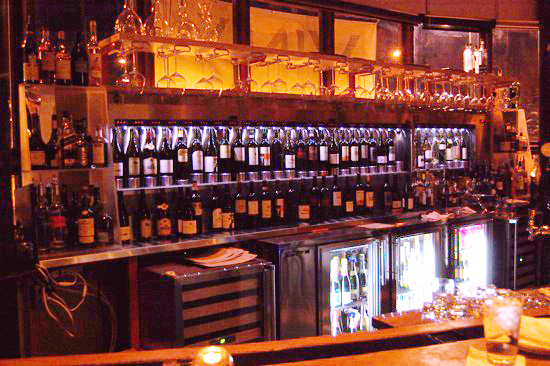 The cruvenee you see here is more than just a decorative wine cabinet. Each of these glowing bottles is hooked into an argon-gas pump system that allows glasses to be "poured" while argon gas is siphoned in with zero oxygen, thus preserving the wine in the bottle for an indefinite amount of time. Around 48 wines by the glass, 30 red, 20 white, bubbly, dessert.. something like that. Who cares? 32 are available on the cruvenee, and Vin 48 can and does choose even the finest bottles to serve by the glass. Additionally, as a taster, you can expect your half or full glass to be as fresh as the day it was opened. In addition, there are 8 or 9 flights available, and at least 3 under $20. Pair your choice with a great bar menu item like the mussels ($8) or the kobe beef sliders with foie gras ($23) with fries and house-recipie ketchup. And lets face it- it makes the boat building look-and taste- better than we may have ever thought possible.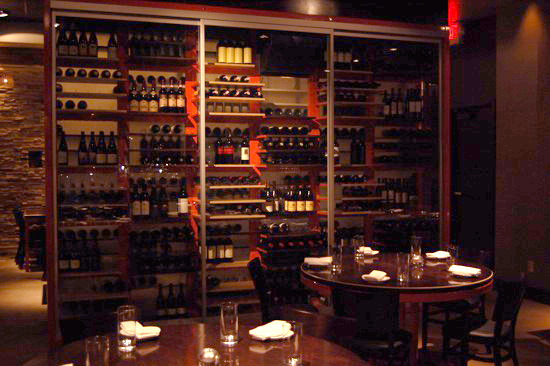 This wine wall is the first outright example of modular design I have seen anywhere in the valley- it is able to move back and forth to create more or less room in the private area behind it, and with a stone-and-candle façade on the opposite side, it is an intimate asset to an already unique and modern concept. In this room, the diner could be anywhere from Vegas, to New York City, to Cairo, sipping such unheard varietals as fiano, tempranillo, mencia, monastrell, arnels, and charbono just to name a few off the list. The dining menu has quite a few opportunities to share, as well as larger portions. Definitely try the spring rolls, with a tasty ginger-coconut rice, the truffle risotto, and the mussels for sharing. For the food buffs, Vin 48 also offers its favorite rendition of Sauternes and Foie. For dessert, try the Lavender Crème Brulee with a glass of Muscate. Holy cow! Expect to spend about $50 per person for a very memorable experience including flights for as little as $14. Still too much? Generous off-season specials are just a few months away.
Pick your experience: choose your glass of wine by the label at the cruvenee bar. Watch the cooks in action at the pizza bar, get a view of everything from a large party table at the seat of the L-shaped restaurant, or sit behind the wine wall for a very intimate candle-lit setting. Share a plate with a buddy, read the paper with your favorite glass, or come in for a great meal of Ahi Tuna or Elk Medallions. Vin 48 is versatile and inventive with its creations, its space, and atmosphere. Its classic valley upscale dining with a modern and innovative touch and is sure to set the standard for wine tasting in the area. To make a reservation, call 970.748.WINE.