If you open, they will come. A little snow helps, of course.
The storm everyone was looking for finally landed on us last night- about 9 hours before Vail's rescheduled opening day. Vail opened one trail, Born Free, and its corresponding express lift, as well as the adjacent Eagle Bahn Gondola, but only to site-seers and folks seeking lunch without their equipment.
Eagle Valley Blog went to Lionshead to catch the buzz of the excitement of opening day. When we got there, it was snowing like crazy!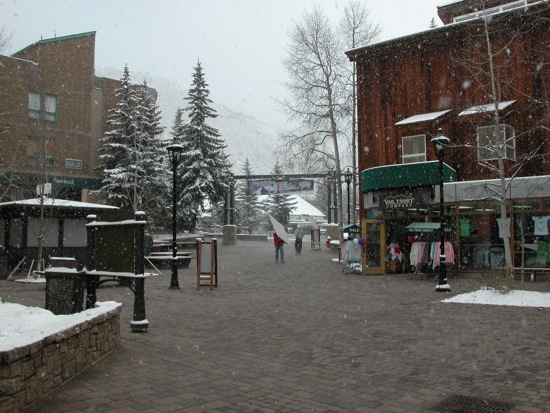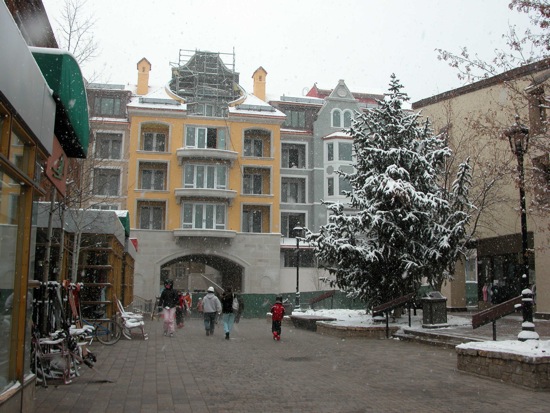 Just a few people were leaving there cars at around 9AM- then we found everyone.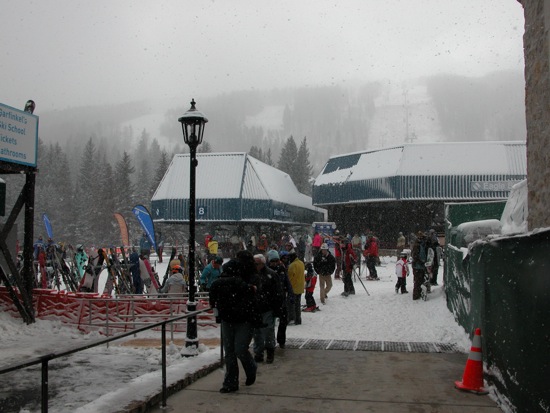 And there were due warnings to inexperienced skiers: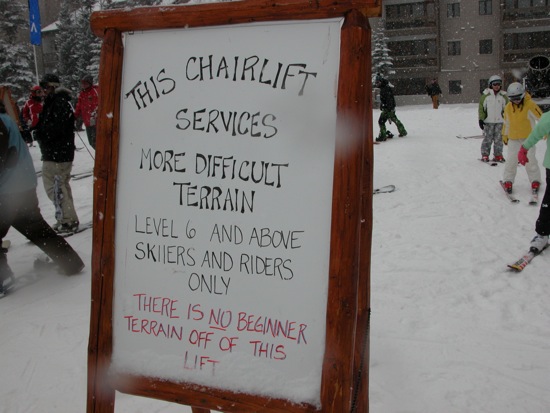 Being without equipment- I opted for the scenic ride up the gondola. The scenic route took me alongside Born Free where every skier and rider riding chair 8 were assigned to ski.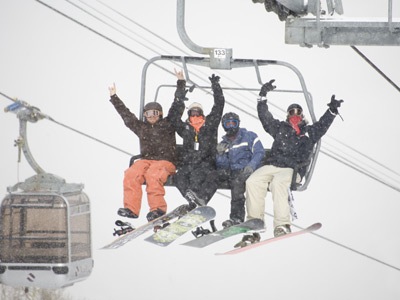 Nobody appeared to be too out of sorts, even when the lift stopped for 15 minutes while my gondola car, warm and spacious, rode alongside at a fast clip. When the lift started back up again, I heard whooping and cheering- but noticed that the snow was tapering off. Looking behind me I caught a glimpse of the snow cloud that was parked over the town of Vail- it was creeping off to the east and becoming even more translucent. Up the hill from me the weather was clearing and the sun was bright, though not threatening to the new snow that lay everywhere.
At the top I stopped into the Blue Moon and chatted with James, a Vail resident of 17 years and 6 year veteran of this particular bar. I asked him when he thought the rest of the mountain (and his estabilshment) might see its first crowds.
"Just let these guys move some snow around, it really depends how big the storm is. When the snow comes, it comes usually big. Hopefully Saturday."
I stop for a moment up in the Eagle's nest food court. Employees all over the building are giddy with laughter- waiting for guests having completed their preliminary work. Laugh after laugh- you'd think they were watching comedy, but its just an excited work force on the brink of their months-long preparation.
On the way down, there are more skiers- a lot more skiers, on Born Free. The slope from my distance appeared covered with ants as the zig-zag down went faster for some than others. At the bottom, crowds! Hundreds waiting to go up the chair, with no complaints. It just goes to show how just four inches of snow is enough to draw more than the vacation crowd to the slopes and provide good cheer and excitement. With the slow opening of the mountain in the near future it looks like the excitement will continue with new terrain openings all the way through mid-December when the back bowls open.