Beaver Creek is officially open for business today November 25, 2009, the lift lines were tolerable and the snow was not half bad.  There were icy patches towards the end of the day, but there were still great turns to be found amongst the people unprepared for what was ahead of them.
Beaver Creek had one run full run, Latigo, open today, a 16 feature jib-park, and the beginner area at hay meadow.  There were lots of smiles and people looking like they were having a blast.  I sure did.
Beaver Creek did however make one mistake today. They seem to have cut their skier shuttle service in half, from 6 buses to 3. This left our skiers and snowboarders waiting 10-40 minutes for a bus.  There was a lady that I heard say "They better fix this, this just won't work. I will not stand for this."  Though she did sound a little hmm… uppity; she makes a good point the people who come to Beaver Creek expect a certain level of service and the resort managers should look at this with serious consideration.   They cannot expect 3 buses to handle the traffic that passes over that bridge everyday. I saw two avon station buses before the next Parking Lot bus arrived, that is 20+ minutes.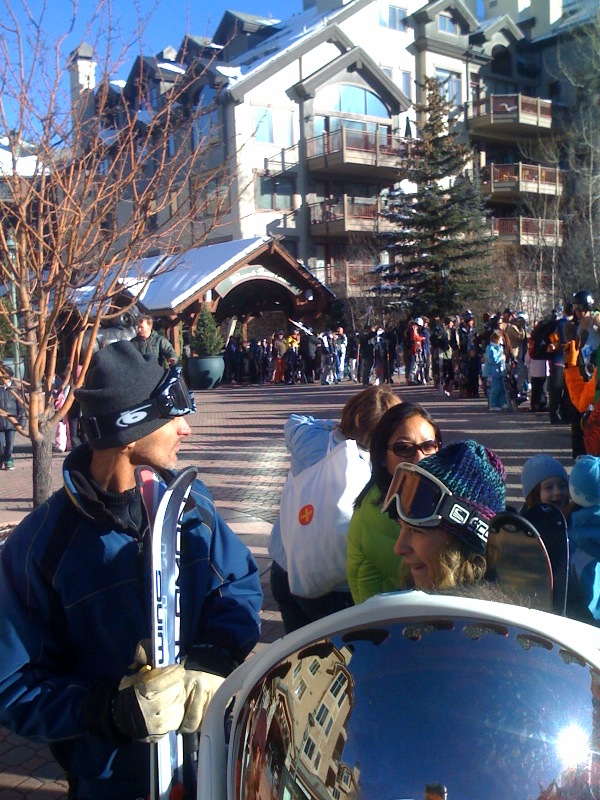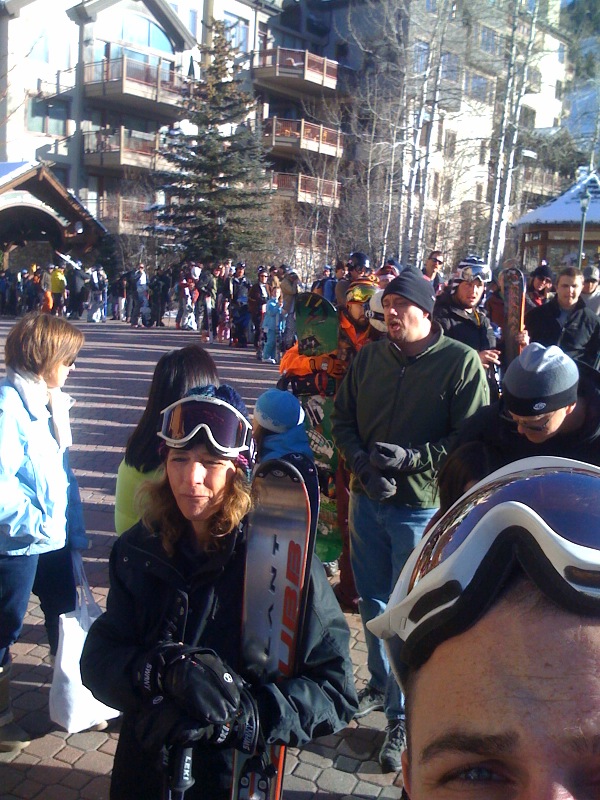 As you can see the line was backed up into and over the bridge. I am glad I beat the rush, but event though I was at the front it still took a half hour to get a bus down to my car.   Hopefully they will fix this problem soon.
Today was also the Cookie Contest in Beaver Creek Village, They served free cookies from 2-3 pm and the winner was announced shortly after 3 pm today, The cookies were spectacular, but there was a wonderful turnout so the delicious treats did not last long. There was a line similar to the bus line for the last few remaining cookies from Avondale and Larkspur Restaurants.  Bring more cookies next year!!