For the past five years OPD (Original Poop Decks) Skateboards has been working away developing new concept longboards and now has the production capabilities to produce boards to the general market.  OPD offers many different types of longboards and short decks. I have been privileged to test the new OPD Downhill deck coined "The Steamer" and at speeds of 25-45 miles per hour this deck out performs anything else out there. It handles tight corners incredibly at high speeds and pushes in flats with minimal effort and resistance. The deck will premiere at "Blaze the Belt 2010" on July 30th and 31st in Leadville, CO.  The "Original" OPD longboard has also been in my quiver and will perform to industry standards competing with Arbor, Sector 9, Gravity, and Bustin Boards. They are developing "The Warning Shot" which is a flex deck with a blunt kick tail and tapered kick nose; This deck will compete with the loaded boards "Tan Tien" and is on the cutting edge of the freeriding discipline of longboarding.  The Campus cruiser is a smaller deck designed to perform under most commuting conditions and is perfect for toting into class and work. There are girls models of these boards as well as every board can be customized to fit the individual needs of the rider. Custom graphics also available for a small extra charge, OPD privides true original longboards and takes pride in every board that is still rolling after 5 years of testing.
Click the picture to go to skateOPD.com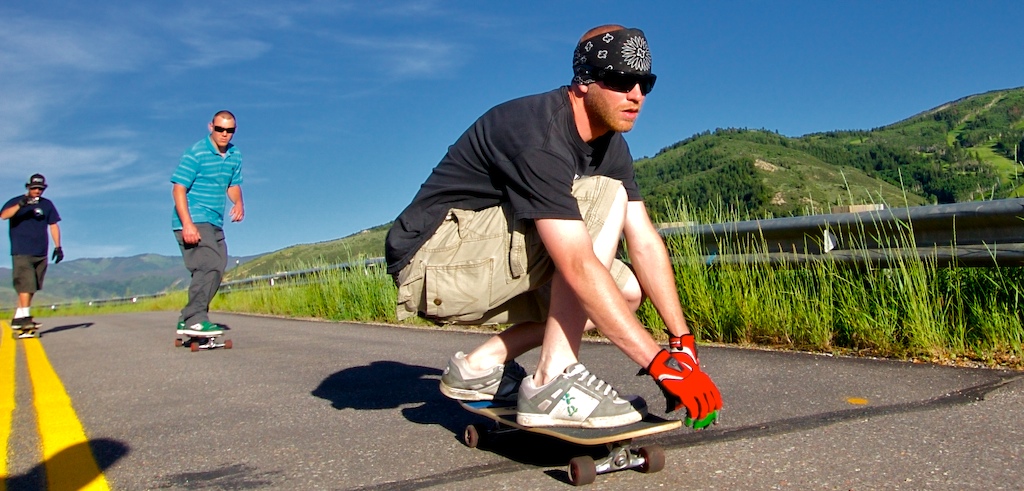 Company Info:
Founded in 2004, Original Poop Decks are handcrafted in Edwards, Colorado from the highest quality Baltic Birch and Rock Maplewoods. Our process produces a consistent design, however each board is a "Original" meaning no two boards will be identical. We create shapes and designs based on the ideas of our team members and customers. Let us create an Original skateboard for you! We at OPD anticipate that your deck will be the best poo you ever set your foot on.
We produce Standard skate decks, and a variety of longboard decks. Our standard skate decks are build strong and light, ready for the skateparks and the streets! We are constantly building prototype designs based on feedback from our team and mostly, our customers.
Our Longboard decks range in size, shape and flex. We also have a variety of styles, including sidewalk surfers and traditional cruiser shapes. We are working on a few new designs, testing different shapes, flexes and materials. Our Longboards are tested tough for speed, control, strength and durability.
"Original Poop Decks is a small skateboard manufacturer from Edwards, Colorado. OPD brings a blend of punk-rock, skateboard culture, ski/snowboard culture and and the laid-back mountain lifestyle to create their own unique style of progressive skateboard philosophy. The ethos of OPD is creativity, imagination and the ultimate skateboard ride. Always in pursuit of the 'perfect ride', the founders of Original Poop Decks continue to progress the sport through intuitive designs and inspired elements from their customers. Each skate truely is 'Original' ." -Ryan Spinks
Founders & Employees:
Contact OPD:
www.skateopd.com
poopdecks@gmail.com
Dustin Coit: @  970 – 376 – 2079
OPD would love to make you and Original longboard and also would love your feedback on the products, the website, the facebook page, and/or just anything give them a call or email and help to get OPD "rolling" for good!!