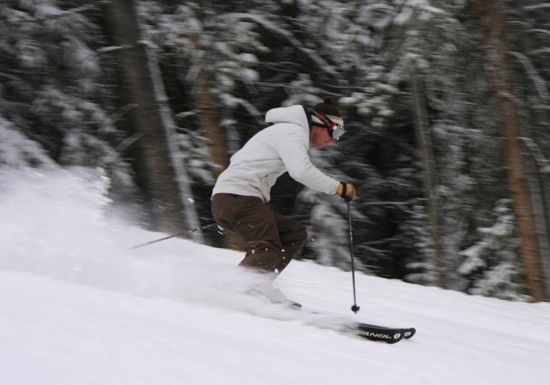 The Vail Valley Blog went to Beaver Creek to ski today, on its first powder day of the season. Outside the window in the morning there were about three inches, but since Beaver Creek reported six, we figured it would be worth a shot. After stopping in at Venture Sports for a quick tune-up, we were up the lift and down the -one- run, Latigo, which was long, winding, and surprisingly not crowded, considering the packed busloads running up and down the mountain. The snow was loose and soft and ice was minimal.
Later on, we spied skiiers and riders breaking in some fresh powder on a run called Double Diamond which ran alongside the our Centennial Express lift. "Did they just open that? No way!" Surprise! Powder.. a lot of it. Enough to support dozens of us on the trail, not enough to cover all the weeds and saplings that had sprung up over the summer. I spoke with ski patrol just a few minutes ago to find out what other train would soon be open, and learned that Double Diamond was already closed. Why? "We only opened it for a couple of hours. We just wanted to get some tracks in it to get some of the air out of the snow. We don't know when its going to open again. It was pretty rocky." Oh great.. guess its a lucky accident that my head didn't come in contact with any. Lesson one: wear a helmet!
My friendly ski patroller was able to tell me that a few of them were going over to Rose Bowl to see if the snow would support its opening. An expected storm on Friday and Saturday this week would undoubtedly support the opening of more terrain for the weekend. Still, the guns were going, and the mountain looked good. I was tired. I got one day in.. that's one for us, zero for ski-blog. Today's 6″ of snow get a 6 out of 10 for a worthy effort but lacking the volume to open more trails on the mountain. We are looking forward to a 7+ out of 10 this weekend.