The IRONKIDS Triathlon Series is coming to Nottingham Park in Avon, CO on September 6, 2009.
The IRONKIDS Triathlon Series Mission as stated from The Ironkids Website is:
|
The IronKids' mission is to inspire and motivate youth through the sport to lead an active, positive and healthy lifestyle. The national event series, targeting children ages six to 15-years-old, will offer an interactive weekend experience for the entire family.
The goal of the IronKids Series will be to host approximately 300-400 participants per event between the ages of six and 15 years old. Children will compete in age-appropriate distances with an emphasis on fitness, fun and safety.
WTC acquired IronKids from the Sara Lee Corporation who had owned the event series since 1985. IronKids' Races have seen more than 40,000 participants in its history. IronKids has introduced some of the sport's greats with past participants including seven-time Tour de France champion, Lance Armstrong and U.S. Olympians, Hunter Kemper and Laura Bennett.
Michelle Payette, who joined WTC in 2008, will use her experience in event management to oversee the IronKids branded event series. Based in Phuket, Thailand, for nine years, Payette served as Race Manager for Ironman Malaysia and for the Laguna Phuket Triathlon. Most recently, Payette was managing events for Tourism Whistler (B.C. Canada) on behalf of the resort community.
The IronKids mission is to inspire and motivate youth through sport to lead an active, positive and healthy lifestyle.  IronKids provides families with a weekend event experience that is educational, interactive and fun.
To ensure IronKids leaves a footprint throughout the U.S., IronKids has developed a 'Legacy Program' that will focus on educating students on the importance of nutrition and physical activity, encouraging children to adopt the IronKids lifestyle.
The IronKids team consists of WTC staff, local contractors, host-city Parks and Recreation Departments, City workers (Fire, Police, Permitting, etc.), local Convention & Visitors Bureaus, Sport Commissions, ASI Photography, Prime Time Timing, Premier Sports Timing, local triathlon clubs and of course many, many volunteers.
|
There are three categories in the triathlon junior, intermediate, & senior.  Competitors 6-8 years of age will compete in the junior category. Competitors 9-11 years of age will compete in the Intermediate category. The senior category will consist of competitors from 12-15 years of age. The Swim, Bike, and Run distances can be seen on the map image below
The support from the comunity and town of Avon is huge, all roads around Nottingham Park will be closed from 7am to 11 am  to keep all the competitors safe. The closure will  include the roads marked in blue on the map below.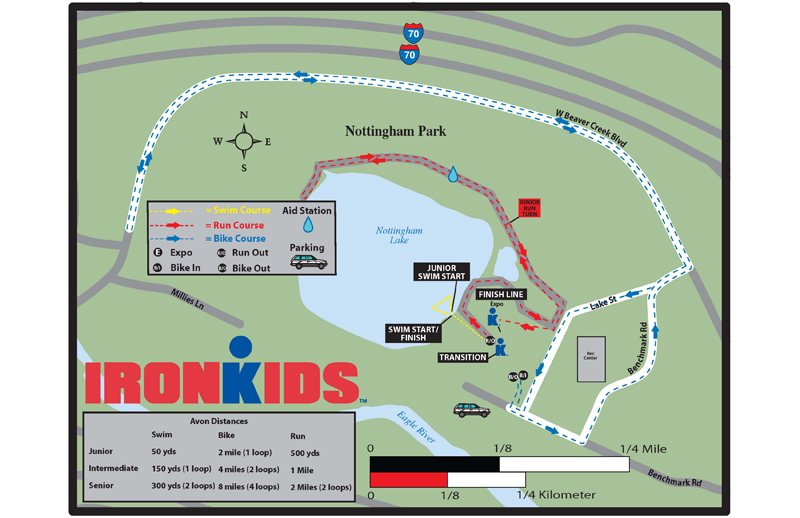 Come out and support the IRONKIDS on September 6 at Nottingham Park in Avon  Colorado
For Lodging Specials Click Here for Beaver Creek West's Buy 2 Nights Get 1 Night FREE!